Commercial Packaged Heat Pump
RQPL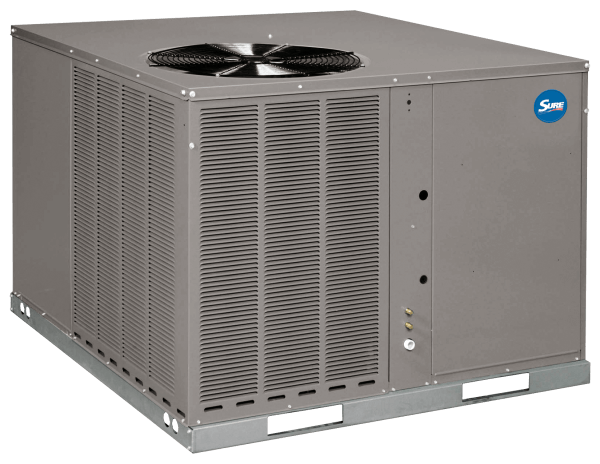 All models feature Scroll® compressors for maximum efficiency and quiet operation. This unit contains a special scroll compressor that is designed specifically to operate with R-410A Refrigerants and polyolester (POE) oils. The compressor is hermetically sealed and incorporates internal high temperature motor overload protection and durable insulation on the motor windings. It is externally mounted on rubber grommets to reduce vibration and noise.
Louvered condenser compartment for protecting the coil against yard hazards and/or weather extremes.
One-piece top with a deep flange to help keep water out of the unit.
Supply and return air openings feature a one-inch tall flange to prevent water migration into the ductwork.
Access panels have "weep holes" and channels to further help manage water run-off.
Side and down discharge options available on all models. (Shipped Downflow Standard).
Easily accessible blower section complete with slide out blower.
Refrigerant connections are conveniently located for easy service diagnostics. Low pressure/loss of charge protection is standard on all models.>
Condenser and evaporator coils feature enhanced fins for better heat transfer and rifled copper tubing for greater efficiency.
Supplemental electric heat strips up to 15 kW are available (field or factory installed) for periods of extreme cold temperatures. Single point wiring makes installation even easier.
All units feature an internal trap on the condensate line eliminating the need for installing an on-site external trap.
Easily accessible control box. Package heat pump utilizes demand defrost control which monitors the outdoor ambient temperature, outdoor coil temperature, and compressor run-time to determine when a defrost cycle is required.
Thermal Expansion Valve standard on all models for superior superheat control, reliability, and energy efficiency at all operating conditions.
Filter Drier Standard on all models (not shown).
Rugged Baserail for improved installation and handling.
Reversing valve directs flow of refrigerant and reverses the refrigerant flow when heating is required.
Specifications
1 & 3 phase models

Efficiencies up to 14-SEER



Scroll® Compressor
Convertible Airflow
Nominal Size: 2 - 4 ton
Documents
RQPL
Compressor - 10 years (3-phase, residential applications)
Conditional parts - 10 years (3-phase, residential applications)